PROCAP
OCR manual capture system - innovative and fast
Our OCR manual capture system PROCAP is a semi-automated capture and tracking solution for service providers with shipments of any type (letter to parcel).
The market demands individual solutions, especially for the mix of shipments in the eCommerce segment, which is more complex, unwieldy and increasingly difficult to process due to its nature, such as size, packaging, heterogeneity and numerous printings.
The new PROCAP system, with its speed (up to 650 items/hour) and ergonomics, makes the work of mail and parcel service providers much easier and saves considerable time and money in in-house logistics.
A software and hardware concept for:
1. shipment capture (OCR machine and handwriting)
2. tracking (BCR)
3. redress processing
4. irregularity processing
Special feature:
The PROCAP system essentially hits a previously sore spot with service providers in the processing of shipments that, for various reasons, cannot be processed via a large (and above all expensive) capture and sorting system, but still have to be captured / tracked, sometimes laboriously and time-intensively.
Efficiency increase + cost optimization + rationalization:
The new PROCAP system saves enormous amounts of time by significantly increasing the capture speed (efficiency increase), thereby reducing employee and production costs (cost optimization + rationalization) and increasing the quality and transparency of shipment processing / traceability incl. shipment image vis-à-vis internal + external (as a further plus).
This solution, which is new for the market, is an immense advantage for the above mentioned target groups.
Advantages in the overview:
- Speed of the system (increase in efficiency)
- Temporal mapping of different processes via one system (synergies)
- Significant reduction of employee and production costs
(ROI determination possible)
- Better achievement of transition times to partners / own logistics
(especially for peaks)
- Increase in quality due to transparency / consignment images
- Statistical surveys possible
- PROLISTIC:
-> own software and hardware team -> one contact person! -> no third party service!
Technical equipment options
OCR camera with machines and handwriting
BCR camera 1D, 2D & Postnet
Volume measurement
Calibratable scale
touch screen monitor
label printer for printing barcode, UPOC, sorting information, logo, etc.
combination with all PROLISTIC software packages
connection to ERP systems possible (e.g. CodX, Promail, etc.)
KEY FEATURES
Up to 650 items / hour possible
Captures from postcard to parcel
Precise captures via touch screen monitor
Transparent and ergonomic
Table automatically adjustable in height
Highlight

The area (address) to be read is tapped on the touchscreen display. This increases the reading rate even further, especially with heavily printed envelopes. Handwriting reading is also possible.
Fast captures possible due to perfect software interaction of all hardware components.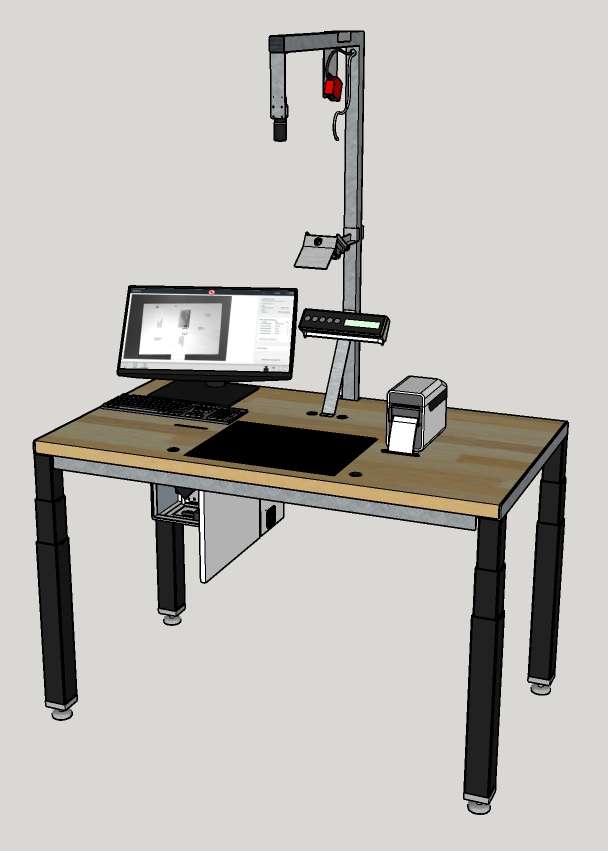 EQUIPMENT
Table size

Standard: 1000 x 800mm

Width Version: 1400 x 800mm

Object size
450 x 350mm
throughput detection
detection < 1 second
POWER SUPPLY
| | |
| --- | --- |
| Voltage | 220V / 230V |
| Current | 3 Amp |
| Frequency | 50-60Hz |
OPERATING ENVIRONMENT
| | |
| --- | --- |
| Temperature | 10°C bis 30°C |
| Humidity | Up to 95% non-condensing |
| Space requirement | Ab 1 x 0.8m |